first floor
Morning Dew
The blue sleeping area makes this room really cozy. The beds are lowered, which creates a playful effect. The room is located at the back of the house and is fully equipped with everything you need!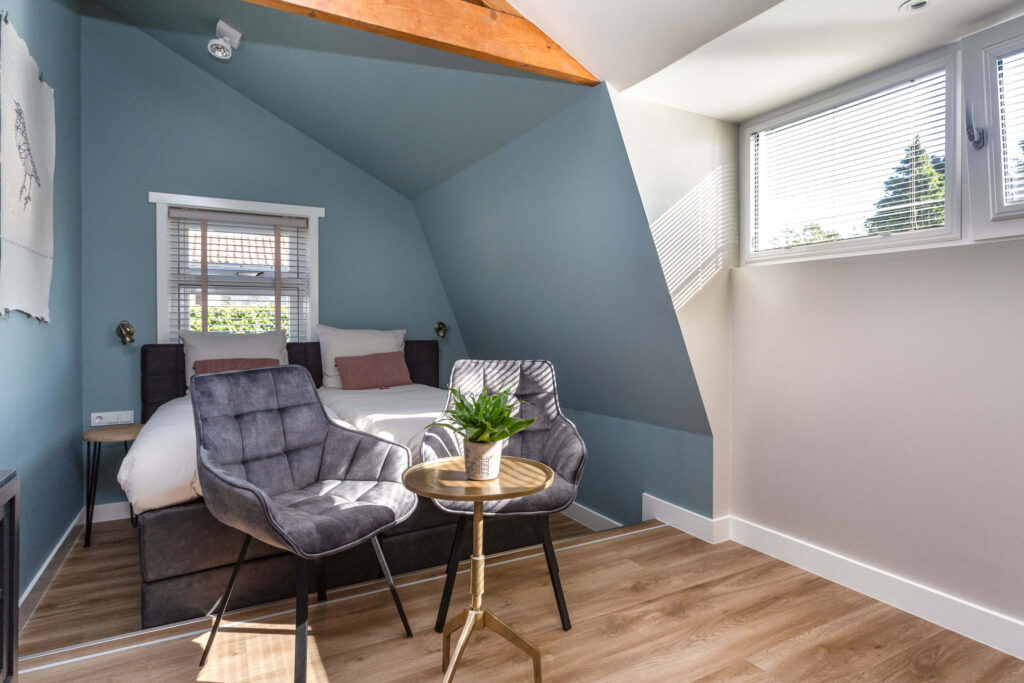 Rate
from € 90,00 / night
Room facilities
2 Single boxsprings (next to each other)
Cosy seating area
Private bathroom with raindance
Föhn
Coffee / tea facilities
Smart TV with Netflix
Airconditioning
Video impression Back Room 2
REVIEWS
What guests say about this room

We were looking for a B&B for 1 night after a day in the sauna. Very surprised by the beautiful B&B. Everything has been thought of, very tastefully decorated and beautifully renovated. Good beds, lovely shower and a delicious breakfast. We will definitely come back!

Every year my mother and I go away together. Earlier she took me with her, so that I could relax / discharge from 1 whole year of hard work. I have taken her with me for the last 3 years. So I can thank her for everything she does for me. This year it has become B&B Mansarde in Apeldoorn. Location is great! Within walking/cycling distance of the center on the one hand and Paleis Het Loo/cycling & walking routes on the other. Emily and her husband (+2 daughters) welcomed us kindly. Everything was explained calmly and clearly. There is a homely atmosphere with the luxury/comforts of a hotel. Everything has been thought of. Safe and easy in and out of the house/room, sitting comfortably in the garden, consuming drinks/sweets that are present or what you have brought yourself. Air conditioning, TV / netflix, nice beds, wonderful shower. In the morning a very nice breakfast from "Anne&Max" What more could you want? 100% a 10+ and therefore highly recommended.
Other rooms
Ground Floor
Evening Sun
2 guests, double boxspring bed, private bathroom
Lees verder
First Floor
The Mansarde Room
2 guests, double boxspring bed, private bathroom
Lees verder
Ground Floor
The Garden Room
2 guests, double boxspring bed, private bathroom
Lees verder