ground floor
The Garden Room
This room has a spacious private bathroom with a walk-in shower. You can walk straight into the garden through the patio doors. Due to its location on the ground floor, this room is in close connection with the communal sitting area and kitchen.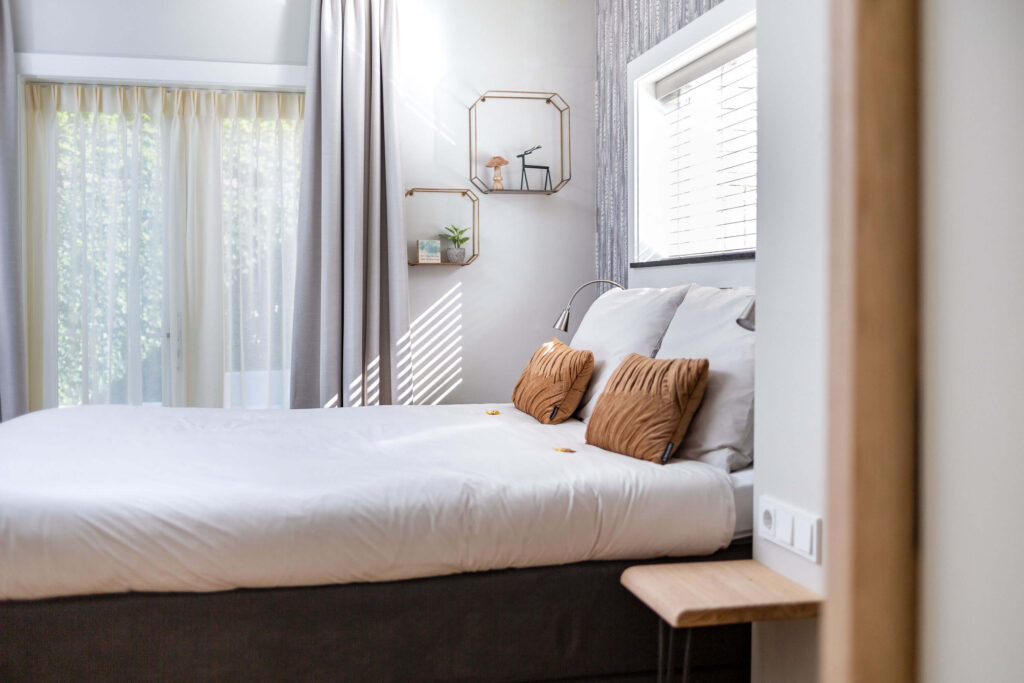 Rate
from € 100,00 / night
Room facilities
Double boxspring
Comfortable seats
Luxurious bathroom with walk-in shower
Patio doors to garden
Föhn
Coffee / tea facilities
Smart TV with Netflix
Airconditioning
Close to communal sitting area and kitchen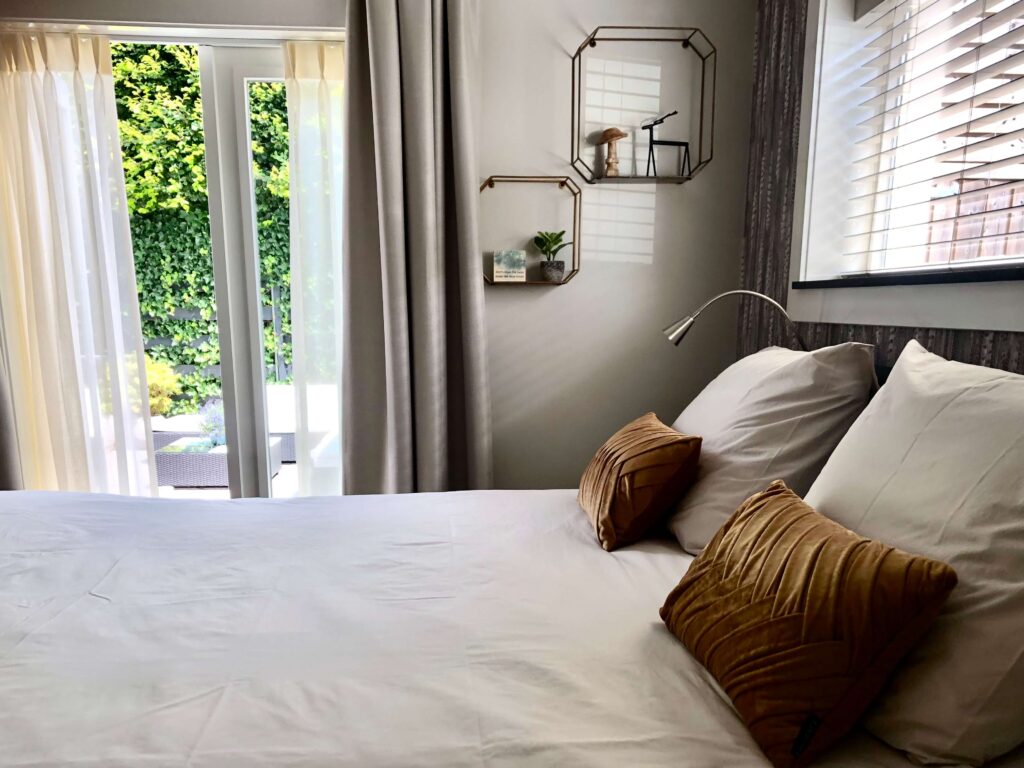 Video impression Garden room
REVIEWS
What guests say about this room

We thoroughly enjoyed our stay. The hosts were extremely helpful and friendly. The property was immaculate and the outside space really relaxing. The breakfast was lovely, just enough to set us up for the day. We would recommend this B&B 😀

RECOMMENDED! Was TOP! Was the 1st guest in the garden room of this fine small-scale B&B on July 8, 2021. Everything is still super new, fully equipped! Lovely bed and pillows, rain shower, really luxurious! Reception was welcoming by Emily and daughter. Plenty of privacy but they are there if you need them. B&B is in reality even more beautiful than in the photos. Free parking next to the house and within walking distance of the center of Apeldoorn. Also nice to rent this B&B with friends or family, then the whole house, incl. beautiful living room, more than fully equipped kitchen (free coffee and tea) and garden with lounge sofa for yourself! Definitely come back here! After those 2 nights in the garden room, I really had the feeling that I had had a holiday! Thank you!

We stayed one night in Bed & Breakfast 'De Mansarde' and combined it with a concert we visited in November 2021 in the Grote Kerk in Apeldoorn. We were looking for a nice place to stay for one night, within walking distance of De Grote Kerk, and were immediately enthusiastic when we found Bed & Breakfast 'De Mansarde'. The stay really exceeded our expectations, the owners of this B&B have done a great job! We were allowed to use the so-called 'Garden Room' on the ground floor. The 'Garden Room' is wonderful, beautifully and tastefully decorated and everything has been thought of! There is also an excellent double bed, we slept wonderfully! Our car was allowed to park in the driveway next to the house, we were lucky to be the only guests that evening. Furthermore, the house has a shared, large and very neat kitchen (the cooking area may only be used when the entire house is rented), there is a shared living room that is very atmospheric. The owners, Emily and Michiel, are very nice, are immediately ready when there are questions. There is also a possibility to sit outside on a beautiful and cozy terrace, because we stayed in 'De Mansarde' on a rainy day in November 2021, we did not use the outdoor area. Our conclusion: a stay at 'De Mansarde' Bed & Breakfast is definitely recommended, it is an incredibly beautiful, clean and well-maintained stay! Emily and Michiel, thank you very much for your hospitality and good care!

Our stay was very pleasant. Lovely hostess who welcomed us and made good suggestions for dinner in the evening. The garden view room on the ground floor was comfortable and very tastefully decorated. No junk, beautiful color. The spacious bathroom top. A very good bed!! The breakfast was delicious and festive. In short, I hope to stay here again. Thanks to the caretakers.
Other rooms
Ground Floor
Evening Sun
2 guests, double boxspring bed, private bathroom
Lees verder
First Floor
The Mansarde Room
2 guests, double boxspring bed, private bathroom
Lees verder
First Floor
Morning Dew
2 guests, 2 single boxspring beds, private bathroom
Lees verder